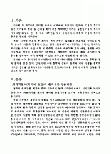 본 자료는 미리보기를 제공하지 않습니다.
자료를 다운로드 하신 후 확인 하실 수 있습니다.
영문초록
Self-sufficiency rate of food in South Korea is almost at the lowest level among OECD countries, and the decrease tend of farmland is expected to be continued. In this situation, Korea experienced a rapid change in the international price of grain due to changes in amount of grain production and food weaponization. It also started to reinforce the appropriateness of maintenance of farmland above certain standard. As one of policy means for this situation, this study selected "the use of idle farmland" as a subject, and started to consider the way to suggest the policy projects using idle farmland. The result of this study is summarized as follows. Firstly, this study defined the meaning of idle farmland, and set up the scope of idle farmland needed to this study. Secondly, this study analyzed the domestic major policy projects with prevention function of idle farmland as well as the policy projects related to idle farmland. It also investigated "recycling measures of idle farmland" that is recently promoted in Japan, and deducted the direction for developing a new model. Lastly, It suggested 9 policy project models that are finally able to use idle farmland. Suggested models are designed to access from various directions. This study suggested contents, entity, target and characteristics of projects in order to set up proper directions in promoting policy projects using idle farmland.
키워드
가격

4,900원

페이지수

14 페이지

발행년

2014

학회명

한국농촌계획학회

저자

김경찬 ( Kyoung Chan Kim ) , 박창원 ( Chang Won Park ) , 조석호 ( Seok Ho Cho ) , 전영미 ( Young Mi Jeon ) , 구승모 ( Seung Mo Koo )

파일형식

아크로뱃 뷰어(pdf)

자료번호

#3985581
자료의 저작권은 판매자에 있으며, 위 정보 및 게시물 내용의 불법적 이용, 무단전재·배포는 금지되어 있습니다. 저작권침해, 전송권 침해, 명예훼손 등 분쟁요소발견 시 저작권 침해 신고를 이용해 주시기 바랍니다.