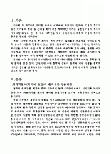 본 자료는 미리보기를 제공하지 않습니다.
자료를 다운로드 하신 후 확인 하실 수 있습니다.
영문초록
Rural villages have many problems such as the collapse of rural village communities with continued over-depopulation and aging, reduced functions of towns and villages, deteriorated services with changes in the structure of settlement class and decreased use of the facilities. they also have difficulties in maintenance in spite of the increase of the roles of rural village community facilities. Various plans for the utilization of community facilities to promote the vitality of rural villages and the revitalization of communities have been needed. Thus, this study aimed to offer basic data to seek for future plans to utilize community facilities and reconstruct communities through an analysis of the current uses of energy and community facilities in rural villages. The results indicated that the consumption of petroleum was highest in mountain villages at an average of 187,475 won/month(137ℓ), followed by fishing villages at an average of 144,142 won/month(104ℓ) and rural villages at an average of 126,070 won/month(93ℓ). The rate of utilization of community facilities was reversely highest in rural villages at 84.3%, followed by fishing villages at 61.1% and mountain villages at 40.7%. This research also found that households saved energy when they used community facilities and areas with a high rate of utilization of community facilities at a lower average temperature in winter. It saved approximately 33% energy compared to other areas. Finally, efficient and economical methods for community facilities in villages to be newly developed and the remodeling of existing facilities should been needed in the future to contribute to reconstructing rural village communities that face a crisis of maintenance or abolition.
키워드