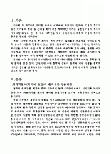 본 자료는 미리보기를 제공하지 않습니다.
자료를 다운로드 하신 후 확인 하실 수 있습니다.
영문초록
Music and literature have been closely connected since the beginning of music history. This is true not only for the art of songs, but also for many compositions written by so many famous composers. One very famous poet is Son Ho-Yeon. The form of her poem, "Danka, Waka, Short poem", is written in Japanese; and consists of only 31 Japanese characters, an extremely short form of poetry. On the basis of these poems by Son Ho-Yeon, toned by Unsu Kang, is music played by Gayakeum, a 12 string-plucked Korean traditional instrument.. The music is composed exactly the same as the poetry, with 31 beats, each character one beat. The music consists of 12 movements, just as there are 4 seasons, which is the image created by the poetry. This combination of poetry and music working together is another form of the interdisciplinary chain of genres, which recently has been a popular trend. However, this work is not only interdisciplinary but also intercultural, bringing together Japanese and Korean cultures. This research is based on these two aspects, which will be the foundation for a new form of combined co-work, such as film, dance and the visual arts in the future.