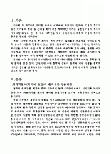 본 자료는 미리보기를 제공하지 않습니다.
자료를 다운로드 하신 후 확인 하실 수 있습니다.
영문초록
After world war Ⅱ, the accumulation of capital and the distribution of income become the central issue. The private property system was restricted within public welfare or social necessity. So several nations` answer to monopoly-controlled industries introduced legislation to nationalize the basic industries. About the year 1980, privatization is the trend of economic policies towards economic renewal. but, in essence nationalization is still the procedure used today, the privatization plan has already faced opposition from the people. I focused that the disutility, lax management or stifled innovation etc., is up in the air on the essence of privatization. These are applicable to not privatization but innovation of public sector. The essence of privatization is on the monopoly-controlled function and social effect realized to each characters. On the other, regulation system is an answer to monopoly-controlled industries. It is enough to use for avoidance of social stress or cost to nationalize the basic industries. But regulation system is deeply trouble by the rapidly evolving internationalization and online economies of scale. So in this current society, practically speaking, we can`t nationalize the monopoly-controlled industries. So It is important to attempt privatization carefully.
키워드