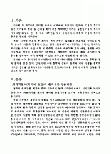 본 자료는 미리보기를 제공하지 않습니다.
자료를 다운로드 하신 후 확인 하실 수 있습니다.
영문초록
A summary indictment is a simplified criminal procedure that imposes a fine, penalty, or confiscation on the defendant only through a written examination and without formal trial proceedings. In the case of the precedent subjected for this study, the defendant claimed for a formal trial for the summary indictment that he received and during that trial, the arraignment was adjusted. While only the pecuniary punishment can be sentenced in summary order, the prosecutor requested the arraignment to be changed to a crime that had only imprisonment as its applicable punishments. This raises a question whether prohibition of reformatio in peius had been violated or not. It is prescribed in the Criminal Procedure Law that for the case where the defendant has claimed for a formal trial, the court cannot sentence a punishment that is worse than that of in the summary order. On the other hand, because arraignment adjustment system was created to prevent the defendant from being unexpectedly and disadvantageously punished, its objective is to make it so that the limited subject of judgement can be adjusted only through the request of the prosecutor based on the principle of 'no judgement without actor' and therefore guarantee the right of defence of the defendant when his charges are changed. Therefore, the adjustment of arraignment in this case seems to hinder the exercise of the right to defence and may be violating the prohibition of reformatio in peius when assessing it from the point view of the initial purpose of the arraignment adjustment system. Subsequently, the prohibition of reformatio in peius should include the sentences of the substantial law and of the criminal procedure law after considering advantages and disadvantages. In the end, although the fact relation may be identical, approving the arraignment to be adjusted to the one that has only the imprisonment as its only applicable punishment can be seen as not considering the advantages and disadvantages of the criminal procedure law and this violates the prohibition of reformatio in peius.