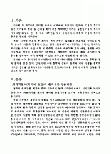 본 자료는 미리보기를 제공하지 않습니다.
자료를 다운로드 하신 후 확인 하실 수 있습니다.
영문초록
This study proposes the development of ``standard grammar`` that can be the basis of various types of grammar. To this end, this study describes the concept of standard grammar, and examines the need to develop standard grammar. Standard grammar is defined as a kind of ``reference grammar``. Standard gramma as a reference role offers a criterion for the description of other grammar. Standard grammar is the ``base grammar`` as well. Standard grammar as base grammar will provide a basis for establishing a grammar system. Since 2002, the accumulated results of research in the area of grammar education and Korean linguistics have been hardly reflected on the government-authorized textbooks. In addition, the revised curriculum in 2009, grammar was integrated into ``reading`` and became a part of the ``grammar and reading``. As a result, the grammar part became easier than that of 2002 and its contents was reduced. However, this innovation of grammar education system was also impossible and grammar educational content was not sufficient under this system. In order to solve these problems, a new grammar system should be required to mediate the gap between school grammar and scholar grammar. Moreover, grammar is required to use as a reference grammar in mass media and publishing industries. In conclusion, the developments of standard grammar is urgent to guide our education, academia and language life.
키워드