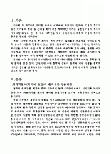 본 자료는 미리보기를 제공하지 않습니다.
자료를 다운로드 하신 후 확인 하실 수 있습니다.
영문초록
Korean sentence endings appear in endings of predicate(verb, adjective and predicate particle). However, non-sentence endings function as sentence endings or sentence endings are omitted where the place of sentence ending. This is a familiar phenomenon occurred in korean dialogues. It brings out something to need teaching korean to korean learners. This study has considered how and what kind of korean sentence endings realize in several soap-drama dialogues showing the property of real spoken language. As a result, the percent of sentences ended with normal sentence endings form 76.5%, that ended with non-sentence endings form 14.5% and predicate-omitted sentences form 9%. This rate have a common between each soap-drama dialogue. The rank of using honorific sentence endings shows that ``HAE-style(해 체)`` used by an overwhelming majority and ``HAEYO-style(해요체), HASIPSIO-style(하십시오체), HASEYOstyle( 하세요 형)`` followed. The rank of non-sentence endings shows by this order; ``-EUNDE(-ㄴ데), -GO(-고), -NIKKA(-니까), -NI(-니), -GEODEUN(-거든), -EOSEO(-어서), -DE(-데), -MYEON(-면). There is little difference between the script and the performance of soap-drama. The frequency distribution of sentence ending realization in between four kind of korean language materials found in various. Forms as sentence endings were few in korean language materials. The non-sentence endings made appearance by this order; ``-EUNDE(-ㄴ데), -GO(-고), -GEODEUN(-거든), -NIKKA(-니까), -EOSEO(-어서). This order is similar with the result of ending realization in soap-dramas. Teaching non-sentence endings is needed but it is not educated in these days. For production authentic materials to support korean language ability, the property that non-sentence endings are often used in spoken language should be included as a target contents of korean language education.