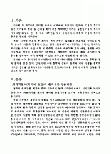 본 자료는 미리보기를 제공하지 않습니다.
자료를 다운로드 하신 후 확인 하실 수 있습니다.
영문초록
Due to the development of Western areas, urban redevelopment, and urbanization of rural areas in China, the demand for a high value-added steel has sharply risen. The current study compared Baosteel Group Corporation and POSCO, which are representative steel companies in both China and Korea, and analyzed indicators of a valued-added analysis developed by Korea Productivity Center(KPC) with a macro approach. Through a valued-added analysis, the present study attempted to identify the importance of a valued-added analysis technique and useful business strategies for management activities. Furthermore, our research suggested some improvement plans for Baosteel Group Corporation in China regarding the areas of technology creativity, human resources development, company image, environmental protection, impacts of derivative industry, international business capability, and raw material supply. In addition, our research aimed at suggesting how to strengthen competitiveness, improve productivity, and produce high value-added steel products for Baosteel. An analysis period was from 2001 to 2010 and publicly-announced financial statements through both stock exchanges were analyzed.
키워드