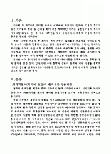 본 자료는 미리보기를 제공하지 않습니다.
자료를 다운로드 하신 후 확인 하실 수 있습니다.
영문초록
With the progress of IT, many firms have implemented their e-business management environment based on IT to efficiently perform e-business tasks and improve their business performances. In this environment, The measurement and management of firm e-business capability are critical to effectively execute business tasks and management activities, and improve the business performance and competitiveness of an enterprise. This study provides a practical measurement tool that can totally gauge a firm e-business capability to be asked for efficiently performing the firm e-business tasks and management activities in an e-business environment. In order to search a measurement tool, we develop the first 32-items to measure a firm e-business capability. The developed measurement items is verified by factor analysis and reliability analysis. We extract the 15-items appropriate for measuring the firm e-business capability and the structure of measurement tool was verified by these analyses. The developed measurement tool proposes 4 measurement factors and 15 items, and the framework of measurement tool.
목차
Abstract
Ⅰ. Introduction
Ⅱ. Previous Studies
Ⅲ. Methods
Ⅳ. Analysis and Discussion
Ⅴ. Measurement Tool
Ⅵ. Conclusion
References
키워드