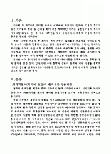 본 자료는 미리보기를 제공하지 않습니다.
자료를 다운로드 하신 후 확인 하실 수 있습니다.
영문초록
Naturally occurring soybean isoflavones are known to be influenced by various genetic and environmental conditions. Growth, yield, and isoflavone content were determined in four different cultivars of soybean grown under drained paddy and upland fields. Most of growth characteristics and yield components of four different soybean cultivars harvested in drained paddy field were greater than those in upland field, regardless of cultivar, By means of high performance liquid chromatography, total daidzein and genistein contents of soybean in drained paddy field were increased up to 40 and 35%, respectively, compared with those in drained paddy field. Besides isoflavone contents, the growth and yield of soybean were significantly affected by cultivar and field conditions, indicating the necessity of genetic program for soybean cultivars appropriate to drained paddy field conditions. In conclusion, converting paddy field into upland may effectively improve soybean cropping system, especially in terms of isoflavone increment under paddy field conditions.
목차
ABSTRACT
MATERIALS AND METHODS
RESULTS AND DISCUSSION
REFERENCES
키워드