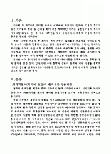 본 자료는 미리보기를 제공하지 않습니다.
자료를 다운로드 하신 후 확인 하실 수 있습니다.
영문초록
The aging of the population is appearing worldwide, and Korea is increasing the aging population faster than any other country. This means that your life as an elderly person will be longer. In order to live happily as an aged person, it is necessary to achieve successful aging. In successful aging, a healthy body is an important factor that determines the life of the elderly. A healthy body is an ecological body, which denotes that one's mind and body are in a state of harmony. Straightening the elderly body and creating an ecological body by re-bodying the disordered body order is realized through movement. The process of organizing and internalizing these movements is necessary, and in this thesis this process was set as the body design process. This study is a study on the process of body design of the elderly for successful aging and proposes the direction of the following step-by-step design process: First, the process of designing an old person's body starts with discovering problems while searching his or her body through movement, which necessarily leads to reflection of one's life. Second, it is important to plan movements from an ecological point of view and perform them continuously and repeatedly to restore body order. Third, from an ecological point of view, it is a stage of practice that regenerates the harmony of consciousness and body. This is a very important process since it involves the continuous practice of movement to regenerate energy by properly re-arranging the body and smoothing circulation. Designing the elderly body in this way is directly related to health, and recovery of health is the first step in successful aging. New perspectives and changes in one's view point on the elderly body will be an important driving force in re-examining the lives of all of us and fulfilling a healthy old life as an important member of the community.
키워드
가격

5,500원

페이지수

15 페이지

발행년

2020

학회명

한국무용교육학회

저자

장내심 ( Chang Nae-sim ) , 이준식 ( Lee Jun-sik ) , 이효나 ( Lee Hyo-na ) , 강남주 ( Kang Nam-ju ) , 김화영 ( Kim Hwa-young )

파일형식

아크로뱃 뷰어(pdf)

자료번호

#6583604
자료의 저작권은 판매자에 있으며, 위 정보 및 게시물 내용의 불법적 이용, 무단전재·배포는 금지되어 있습니다. 저작권침해, 전송권 침해, 명예훼손 등 분쟁요소발견 시 저작권 침해 신고를 이용해 주시기 바랍니다.